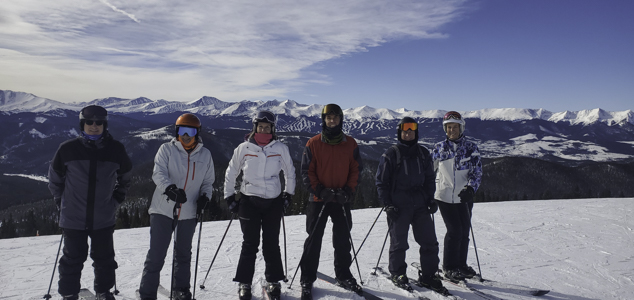 Skiing Director: Debbie Beatty – 719-201-2847
2022 Ski Bus schedule — see below
PPOTHG will offer 11 ski bus trips, on Tuesdays, Wednesdays, or Thursdays during the months of January, February, and March. The trips will include Breckenridge, Copper, Keystone and Vail, with stops at various Nordic centers for those interested in cross country skiing. Skiers will be picked up and dropped off in the IHOP / Safeway parking lot in Old Colorado City.
PPOTHG usually offers an annual 4 day overnight ski trip to Arrowhead. Trip for 2022 is scheduled for February 7-11. Contact info: Susan Humphrey, 970-492-5981.
In addition, our annual overnight Nordic trip to Snow Mountain Ranch (near Winter Park) is scheduled for February 15-18, 2022.  Contact info: Joe or Sheila Maio, jrmtn@comcast.net  or sheilamaio@comcast.net.  Both of these trips are to great destinations and offer a variety of non – skiing activities.
Join PPOTHG on the Ski Bus! 
Attached is the 2022 PPOTHG Ski Bus Schedule. Please be sure to sign the form at the bottom of the schedule, mail a copy to me along with your check, and keep a copy for your records. The cost this year for PPOTHG members is $40/trip ($50 for guests). Vail bus is $55 ($65 for guests). Ski bus reservations will be based on the DATE RECEIVED. You MUST HAVE A RESERVATION at the ski resorts before you board the bus. The bus we will use this year will be a 56 seat coach, provided by Ramblin Express. However we will only allow 25-28 passengers on the bus and masks will be required. The bus will have a toilet, enclosed storage for skies, reclining seats, overhead storage, USB plugs, reading lights and auto chain.
Also, note on the schedule the Nordic areas that are available for those of you who are not interested in downhill skiing. I have selected a location based on last years preference. If you would prefer a different location we can change if all agree. If you have questions, send me an email.
Please note that ALL Correspondence regarding cancellations, and/or a desire to transfer your reservation to another trip, or any requests you may have to sell your reserved trips, must ONLY be directly addressed to Debbie Beatty! This insures that I will have an accurate, up-to-date attendance list that identifies who will be participating on each of our ski bus trips. My email address is: Debbie.Beatty@q.com
Thanks,
Debbie Beatty
Ski Director
Fine Print
We leave promptly at 6:30 a.m. from the IHOP / Safeway parking lot in Old Colorado City. To allow time to board, you should try to arrive no later than 6:15 a.m. When boarding on our combined Copper / Breckenridge trip, be sure to let our driver know which of the optional resorts you plan to ski that day, as he will be separating the skis to avoid confusion and delay.
We leave the ski area promptly at 3:30 p.m. To allow time to board, you should return to the pick-up point (same as the drop-off point) no later than 3:15 p.m. On the combined Copper / Breckenridge trips, the Copper skiers will leave their ski area at 3:15 p.m. as usual to return to Breckenridge to pick up those skiers at approximately 3:30 p.m.—3:45 p.m.
Skis are stored in the luggage enclosure.
Please consider the comfort and safety of your fellow skiers. Do not bring anything that is too large to fit into the overhead rack or onto the floor under the seat in front of you.
Look around and check to be sure you have all of your stuff as you are departing the bus for the day; many a ski glove has been left behind!
We make one restroom stop going and coming home. To keep us on schedule, this is intended to be no more than a 15 MINUTE BREAK!