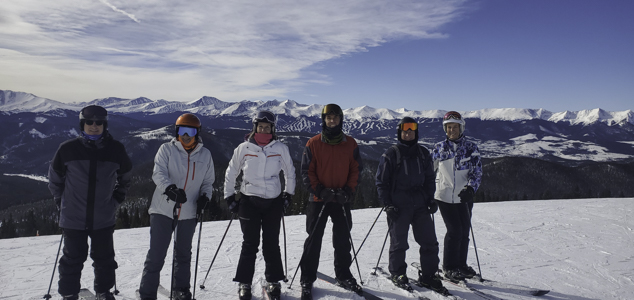 Skiing Director: Debbie Mraz – 719-201-2847
The 2023 skiing season is here and ski bus sign-ups have begun; check the calendar page for trips!  Please contact Debbie for the detailed schedule and Sign-up form;  Debbie.Beatty@Q.com.
This year we will offer a discount if you sign up prior to January. Keystone/A Basin and Breck/Copper are $45, and Vail is $55.  After Jan, prices increase to $50 for Keystone/Breck trips, and $60 for Vail.  Guests will always be $10 more than members. 
YOUR SKI BUS RESERVATION IS BASED ON THE DATE RECEIVED.  Pick up point is the IHOP/Safeway parking lot at 3275 West Colorado Ave (except for Vail trips).  Breck and Keystone trips will be via Hwy 24 through Woodland Park and Fairplay.  Vail trips will meet at the Woodmen Park and Ride (near I-25) and travel I-70.
Send the original sign-up form and your check made out to PPOTHG, to: Debbie Mraz, 8750 Ballantrae Dr., Colorado Springs, CO 80920.  If you need to cancel a trip, please e-mail Debbie at  Debbie.Beatty@Q.com.
If you must cancel at the last minute, call or text Debbie 719-201-2847.  If you cancel 48 hr. in advance, you may switch to another trip on a space available basis or you may ask Debbie to sell your seat.  If your seat cannot be sold, your payment is forfeited. Debbie is the only person authorized to sell or exchange a seat.
Please note that ALL Correspondence regarding cancellations, and/or a desire to transfer your reservation to another trip, or any requests you may have to sell your reserved trips, must ONLY be directly addressed to me!  This ensures that I will have an accurate, up-to-date attendance list that identifies who will be participating on each of our ski bus trips. 
Thanks,
Debbie Mraz