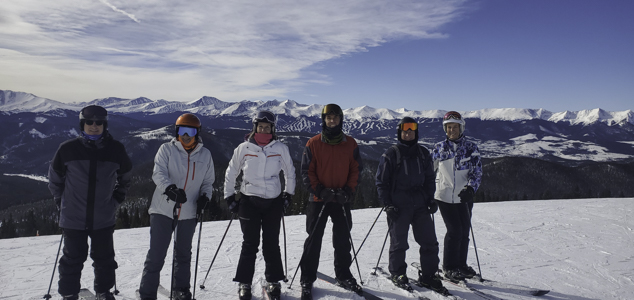 Skiing Director: Debbie Mraz – 719-201-2847
The 2022/23 ski season has come to a close!
Thanks everyone for a successful ski season on the ski bus. All refunds have been mailed out for those that cancelled 48 hrs in advance. Please deposit or cash your checks soon. A big thank you to Wayne Turner, Larry Price, and Rick Mraz for filling is as bus captains for me. All passes are on sale now so please renew while the rates are cheaper. I will ensure we include Copper at least 4 times for those that purchase a 4 pack. I'm hoping to include 2 trips to Monarch next year since it was so popular. I'm always open to feedback
Thanks,
Debbie Mraz
Arrowhead Ski Trip Update (Jan. 29-Feb. 2, 2024)
The Arrowhead ski trip for next year is currently full, but we are taking names for a waitlist. When or if we get enough people to add another condo, I will get in touch with those on the waitlist to submit a deposit at that time.
If you have any questions, you can contact me at jellwood28@gmail.com or 719-244-4180.
SPECIAL EVENT – SNOW MOUNTAIN RANCH – 2024
WHAT – Snow Mountain Ranch Snow Shoe/XC Trip 2024 (Downhill skiing is available a short distance away at Granby Ranch.)
WHERE – YMCA Of The Rockies Snow Mountain Ranch near Granby CO (Details available online.)
WHEN – 13-16 February 2024
COST – $437.00 per room for entire stay (same as last year)
Initial Details: We will be staying in eight bedroom lodges. Each room has a full bath. Seven of the rooms have two queens, one room has three bunk beds. Joe Maio, Patty Martinez, and Bob McConnell will be cabin coordinators. We will have communal breakfasts and suppers. Lunch will be leftovers or on your own. First step is to see the interest level in the trip so we can put a temporary hold on the cabins. Once that is done we will send another email asking you to lock in your attendance by email, indicate your cabin preference, and send in your money so we can lock in the number of cabins we need. Money is not refundable, but if you have to cancel, you can "sell" your room to another member. Once this is done, cabin coordinators will work out final details with the folks in their cabin prior to the trip (Room assignments, meal responsibilities, etc.). Indicate your interest by email to Joe Maio at jrmtn@comcast.net by July 4.